Doctor Joan Francesc Fondevila Gascón wins the Award for Best Professor
Dr. Joan Francesc Fondevila Gascón, University lecturer and director of the Cable Studies Center (CECABLE), won the Prize to the Best Valued Professor of Euncet Business School-Polytechnic University of Catalonia for the 2018-19 academic year in a spectacular act Graduation held on July 18, 2019 at the Terrassa Cultural Center.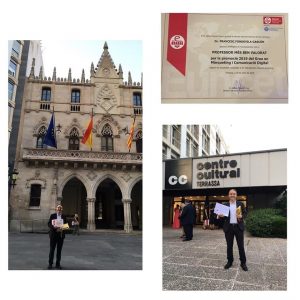 "It is exciting and a reason for maximum satisfaction to receive this Prize, since university teaching springs from the vocation, and that all this is recognized is an incomparable joy," said the winner Dr. Fondevila.
In fact, the Terrassa's professor accumulates numerous awards (as a teacher, researcher or manager) in the various universities in which he develops or has developed activity, always marked by excellence and success (Universitat Pompeu Fabra, Escola Universitària Mediterrani of the University of Girona, Blanquerna-Universitat Ramon Llull, Euncet-UPC, EAE-UPC, Universitat Autònoma de Barcelona, ​​Universitat Oberta de Catalunya, Universitat de Barcelona, ​​Cesine, ENEB, UAO CEU, Camilo José Cela University and various international universities).
Author of more than 150 indexed scientific articles, more than 150 communications in scientific conferences and more than 120 scientific books and book chapters, Dr. Fondevila accumulates more than a hundred awards and distinctions, which makes him the international leader in his knowledge areas. In addition, as the author of the scientific blog http://www.telecomunicacionesyperiodismo.com/, as director of CECABLE and as a historian of the Terrassa Futbol Club, Dr. Fondevila has also received numerous awards that bring him as the maximum reference in his sectors.